24 Hour
Emergency Service!
Licensed & Insured!
TREE REMOVAL COMPANY SERVICES SOUTHERN MD:
Tree Service Southern MD
Tree Cutting Services

Tree Trimming & Pruning
Firewood
Landscaping Services

Mulching & Mulch Supplier

Dead & Diseased Trees

We're on a mission to be THE BEST TREE SERVICE company in Southern MD.  We want to be the company you recommend when a friend says... "I'm searching for a tree removal company near me".  
ATTENTION HOMEOWNERS!  FREE Homeowners Checklist.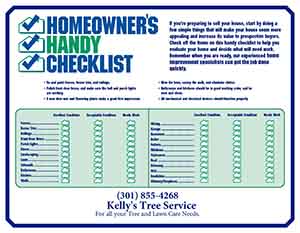 Sign up for our monthly newsletter and download this FREE handy homeowners checklist.
If you're preparing to sell your house, start by doing a few simple things that will make your house seem more appealing and increase its value to prospective buyers.
Check off the items on this handy checklist to help you evaluate your home and decide what will need work.
...brought to you by a Tree Service Southern MD company.
READ WHAT OUR CUSTOMERS ARE SAYING...
Jacob B. 
Positive:
 Professionalism,
 Punctuality,
 Quality,
Very responsive, great pricing and awesome to deal with. Would definitely recommend.
Paul N.
Very Professional. Showed up on time and went to work promptly. Had 7 very tall 30 year old Leyland Cypress trees cut down with the debris removed. Highly recommended.
Kari
Very helpful and good place to get fire wood!
We're Proud To Serve The Southern Maryland Community: Calvert County, Charles County & St. Mary's County
As well as, Prince George's County, Anne Arundel County, DC, and Virginia.
TREE REMOVAL COMPANY SOUTHERN MD
Licensed & Insured:  MHIC #133293   |    DNR MD Tree Expert License #1131
Licensed MD Firewood Dealer / Maryland Forest Product Operator's License #011344
Southern Maryland Tree Service:  24 Hour Emergency Service!
WE ACCEPT ALL MAJOR CREDIT CARDS.